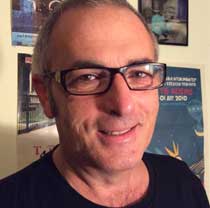 George Kalomenopoulos ———————————————–Producer, President of DOCROADS
Founder and owner of 2K films, an Athens based production company known for producing films of global interest, for a broad audience, framed within the original and inquisitive viewpoint of their creator and related to the cultural diversity and the challenges of the contemporary world. He works as Director, Producer, Line Producer, Advisor, Media Expert, and Consultant in the production of numerous features, documentaries, and TVCs with acclaimed partners in many international award-winning co-productions. Among many festivals around the world, he also participated in all Sunny Side of the Doc /Asian Side of the Doc editions, mostly as partner,(as Expert/Consultant in 2013 &2014, in La Rochelle, France, as evaluator /advisor 2015, in Xiamen, China and as moderator in 2016 and 2017 in Bangkok, Thailand).
He has been certified as Media Expert by the European Commission in 2009 for the Creative Europe/Media Program of the European Union, and since 2012, and he is also an Expert/evaluator for the European Commission Programs Europe Culture and Europe for Citizens.
He is a member of AGDOK, German Association of Documentary Filmmakers, and Member of PACT, Media Producer's Association. He conceived, organized, and is directing DOCROADS, a project-driven training initiative for creative documentary consisting of seminars and workshops, a program being held since 2013 on an annual basis in Europe and Asia and enthusiastically adapted by the international documentary community.
George Kalomenopoulos is one of the main pillars of the recently launched
PIXII-The International Path to Digital Co-Creation
https://pixiico-creation.eu
the first European incubator for immersive projects, established as an international path of collaborative digital creation coordinated by Sunny Side of the Doc, in partnership with Creatis, 2K Films, MOMUS and MUTEK, with the support of Creative Europe.
Bjoern Jensen —————————–Producer, Distributor, Film Consultant, DOCROADS Director
For 30 years Bjoern worked as supervising producer, executive producer, and consultant on more than 90 documentary and feature films many of them award-winning. Credits include "Quiet Days in Hollywood" with Hillary Swank, "Montreal Symphony" (winner best Canadian documentary at FIFA), "Under the Ice" (winner best documentary at Kuala Lumpur Festival) "Scientists Under Attack" (winner of 11 international festival awards) and many more. He holds a Master's Degree in German and English Literature (MA) and an international Business MBA and he is member of several film associations. Bjoern worked for 15 years as head of production for the production company Kick Film GmbH before he founded Ginger Foot Films in 2007. Since 2018 he works as VP Business Development for Reef Distribution GmbH, one of the leading worldwide distributors for 360 degrees full-dome films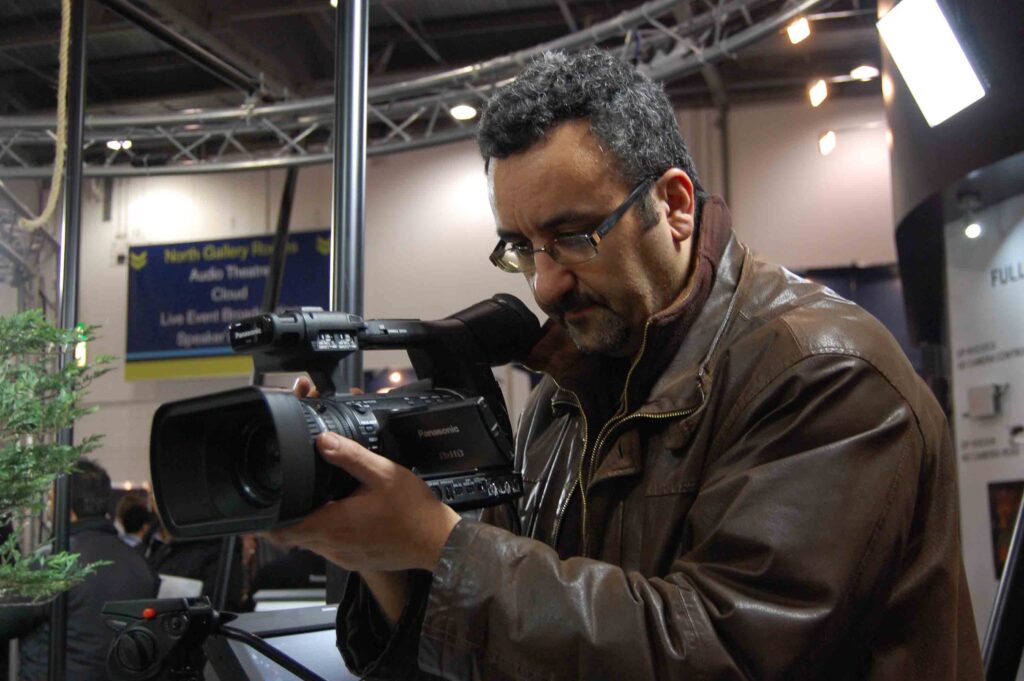 Ioannis (Yannis) Skopeteas ————————– Associate Professor / University of the Aegean
Ioannis (Yannis) Skopeteas is Associate Professor in Screenwriting and Direction in Digital Audiovisual Arts in the Department of Cultural Technology and Communication (University of the Aegean, Lesvos, Greece) and the Greek Open University. He has been teaching screenwriting,directiοn, editing, digital video, lighting, and audiovisual cultural applications. Also, he is instructor in several Distance Learning programmes, co-ordinator of the AegeandocsInternational Documentary Film Festival and Scientific Director of the Summer School in Arts and Audiovisual Communication, University of the Aegean, which co-organized the "Docroads" workshop in 2016 and 2017 in Greece. He holds an MA in 'Image and Communication' from Goldsmiths University of London and a Ph.D. from the University of Westminster, conducted on a state scholarship, concerning cinematography practice in the Greek features of the mid-1990s. He has written a monograph on 'Videocamera and audio-visual recording' taught in three Greek Universities at the present, and a book on 'Narration and Genre in fiction films- with case studies from the Greek cinema'. He is co-editor of the volumes 'Documentary, another reality' and e-books 'Critisizing films' and 'Introduction to documentary'. He has authored several book chapters taught in Greek universities, scientific articles in journals, and in conferences and articles on photographic and audiovisual issues in wider circulation magazines. He has written the script and directed 27 documentaries of a special scientific interest, in collaboration with other University professors and scientists. These documentaries are screened at various festivals, conferences, and the Greek National Broadcaster, and some of them play at this time in Greek museums, as approved by the relevant committees. As a researcher, writer and director he has worked with the Greek Olympic Committee, Foundation of the Hellenic World, Benaki Museum, Piraeus Bank Group Cultural Foundation, Pedagogical Institute and Foundation for the Promotion of Journalism Botsi, Museum of Industrial Olive Oil Production, Historical Archive of the Aegean Ergane, Historical Folklore Museum Offshore West Mani, Museum of the Olive and Greek oil Sparta, Museum of Silk Soufli. Also, he was recruited and worked as a script analyst for the European Initiative Euroscript. Moreover, he has written and directed more than 100 professional audiovisual works (advertising, corporate, shorts). Generally, he has worked as screenwriter and director since 1994. For his work, he has been honored over the years with several awards: Bronze Ermis Awards 2004 as an affiliate of the Company for the Next Generation product presentation Pfizer Zithromax, State Distinction Awards 1999, Honorable Mention at the Drama Festival 1999 for the documentary 'The Photographer, the Man and the Place', 1rst prize in the 2nd Meeting of Young Artists for a short film.
Hans-Stefan Heyne ———————————————————————————– Legal Consultant
Hans-Stefan Heyne worked as a Unit Manager at NDR Public Television in Hamburg/Germany, he became a part of Germany's biggest Public Broadcaster ARD/Channel One, he was a Production Manager at NDR Public Television in Hamburg and a Production Manager/Executive Producer at Studio Hamburg's production unit, where he was responsible for production budgets, cost-breakdowns and contracting. He was a Legal Consultant and Head of International Co-Productions and Acquisitions until 2011 at NDR International, later to become Studio Hamburg Distribution & Marketing (SHDM). The company was responsible for the combining of any and all commercial activities of NDR, such as program acquisitions, international co-productions, program sales, worldwide Co-Production, and Licensing. In 2012 he started his own company "International Media Consult & Business Services", focusing on documentaries financing and co-financing, setting up international co-productions, acquisitions, and sales contracts, all kinds of legal aspects and rights management.
Eva Stefani ————————————————————————————————————-Director
Eva is a documentary filmmaker and a visual artist. She currently works as an assistant professor of Cinema Studies at the University of Athens and as a visiting professor at Freie University, Berlin. She has taught documentary filmmaking at Story Doc as well as EDN seminars. She studied cinema and anthropology in Paris, London, and New York, and she holds a Ph.D. from Pantion University, Athens. She has written the book "10 texts on Documentary". She is the head of the Film Series at Patakis Publishing Company, Athens. Her films have been screened in various international film festivals (IDFA, Cinema du Reel, FIPA, Lisbon Docs). She has won several awards, among which are 1st prize at Cinema du Reel and Thessaloniki Documentary Film Festival for The Box. She has also received the FIPRESCI and the Sunny Side of the Docs awards. Her short film Athene received 1st prize from the Greek Ministry of Culture and was broadcasted by Channel 4, whilst Akropolis won 3rd prize at See Docs (International Documentary Festival) in Dubrovnik and was aired by RAI 2. Other credits include Letters from Albatross, What Time Is It?, and The Return of E.C. Gonatas.
Paul Pauwels ———————————————————– Owner/Managing Director of Congoo bv
Paul has 40 years of experience in the world of audiovisual production as unit manager, production manager, and producer. During the larger part of his career, he has combined production and teaching/ tutoring.
He worked in feature film production until 1987, when he founded his own production unit: Periscope Productions. The company produced commercials, short feature films and prize- winning documentaries.
In 2005 Paul Pauwels left Periscope Productions NV to become programme manager at the Flemish Public Broadcaster VRT/CANVAS. There he was in charge of the science and history department, and responsible for the relations with the independent producers and directors.
Between 2007 and 2011 he was the creator and later the director of the "European television and media management academy" in Strasbourg, France.
He was hired as the Managing Director at CONGOO bvba in March 2012 and took over the company six months later.
From May 2013 until April 2019 Paul Pauwels was the managing director of the European Documentary Network (EDN).
In April 2019 he relaunched Congoo bvba, mainly for activities that concern tutoring, coaching and moderating.
During his active time as a producer, Paul Pauwels was a respected expert on matters of European documentary co-production. He shared his knowledge acting as a tutor and an expert for several organisations. Amongst them: Documentary Campus (Germany), Greenhouse (Israel), CoPro (Israel), Balkan documentary Center (Bulgaria), International Documentary Institute (Czech Republic), DocEdge (India) and Documentary in Europe (Italy), DocLab Poland, Beldocs (Serbia) Dhaka Doc Lab, DMZ (Korea), KCA (Korea), Tokyo Docs…
Paul has been lecturing and managing workshops on documentary development and production in Belarus, Belgium, Bangladesh, Bosnia-Herzegovina, Brazil, Bulgaria, Canada, China, Croatia, Czech Republic, Denmark, Egypt, Finland, France, Georgia, Germany, Greece, Hungary, India, Indonesia, Iran, Ireland, Israel, Italy, Japan, Korea, Latvia, Malaysia, Morocco, Netherlands, Norway, Poland, Portugal, Romania, Serbia, Sri Lanka, Sweden, Switzerland, Slovakia, Spain,Tunisia, Turkey, the U.K., Vietnam, Sri Lanka.
He is teaching at the LUCA School of Arts in Genk, Belgium and is a guest lecturer at the RITCS film school in Brussels, Belgium.
James Bayliss-Smith ————————————————————————Documentary Cameraman
WILDLIFE – PEOPLE – ADVENTURE Long Lens – Gimbal – Aerials – Timelapse crafting beautiful images and sequences
James Bayliss-Smith is an award-winning cameraman and filmmaker based out of Bristol in the UK. His career was born out of a passion for adventure, travel, creativity and technology. James shoots documentaries, wildlife, aerials, promos and is up for anything adventurous. He has filmed in over 20 countries and in doing so has developed a natural empathy with peoples from all cultures. Specialising as a sync cameraman on both character driven and presenter-led documentaries as well as working as a wildlife cameraman, he is experienced in shooting with a range of styles and on a variety of cameras. James has a eye for a beautiful shot and brings a developed aesthetic sense, and a feel for story, to each sequence and project he works on.
vimeo: vimeo.com/jamesbs
instagram:@JamesBS
skype: james.bayliss.smith
facebook: facebook.com/J.B.S.Films
linkedin: linkedin.com/in/jamesbaylisssmith
CAA Licensed drone pilot
Letus Helix Gimbal Owner/Operator (the Helix is in the same class as the mōvi pro)
Award-winning cinematographer (Australian Cinematographers Society award)
Hostile Environment Trained by the ABC in Sydney – USA iVisa until 2021
Experienced FCP X video editor/ BA International Relations with East-Asian studies – Leeds University • British & Italian passport holder / EU and Chinese driving licence / Global Citizen
2019 – Channel 4 – Biting Back – the rise of the animals, Camerman / Producer / Director. Ongoing work as a self-shooting PD making a film for the new channel 4 youth programming strand "4Real". The film is about the Extinction Rebellion off-shoot Animal Rebellion, activists who believe in a plant based food solution to the climate crisis.
2019 – BBC1 – The One Show, DoP. Shot two one show films with Presenter Andy Torbet as he attempted to paramotor up the Wye Valley with producer Emma Brennand. https://jamesbaylisssmith.com/film/bbc1s-the-oneshow-andys-aerial-adventure/
2019 – Promo – Kosmos , DoP, Producer, Director, Editor. Shot and directed brand film for ethical clothing startup Kosmos Activewear. Shot on location in Israel. https://jamesbaylisssmith.com/film/kosmos-activewearbrand-video/
2018 – BBC 2 – Extraordinary Rituals; DoP. Documentary shoot for the BBC Natural History Unit in Papua New Guinea for the 'landmark' follow up series to the critically acclaimed Human Planet. James filmed a brutal scarification ritual for one of the stories in the initiations episode with producer/director Simon Bell. Behind the Scenes: https://www.bbc.co.uk/programmes/p06gtsvd
2018 – Channel 5 – Tigress Productions – 'North Atlantic – A year in the wild'; Wildlife Cameraman. Sequence work with Eider Ducks and Arctic foxes filmed on location in Iceland over midsummer.
2018 – BBC 4 – Bungalow Town Productions; Wildlife Cameraman / DoP. Observational documentary shoot in Thailand for ongoing feature documentary (BBC4 Storyville) in production about a Thai Elephant Campaigner.
2017 – BBC 2 – Springwatch; Wildlife Cameraman / Producer / Director. James Produced directed and shot one of Springwatch's "Cameraman Diary" films about James's grandfather who was a renowned bird photographer. Filmed behavioural sequences with migrating Dunlin on Hilbre Island in the Wirral. https://vimeo.com/222347194
P.T.O
2017 – Channel 5 – Plimsoll productions – 'Wild Great Britain'; Wildlife Cameraman. Sequence work with Sand Lizards and Smooth Snakes as well as sync with reptile specialist, the 'Lizard Wizard' for a contributor driven sequence for Channel 5's landmark UK-based natural history series.
2018 – Feature Doc – The Alawai Way – drone and gimbal specialist cameraman. Documentary shoot in Kenya for ongoing documentary in production about the history of the Islamic tradition of Sufism. Drone DoP and gimbal operator.
2016 Promo – Tailfin; DoP, Director, Editor. Produced very successful Kickstarter campaign video for Bristol based mechanical engineering company Tailfin. This project involved lots of aerial work as well as extensive shooting on a gimbal (Letus Helix) and slider work.
2016 – Feature Doc – The Boy from Mushin; DoP. Travelled to Rwanda and South Africa to shoot observational sequences for the documentary 'The Boy from Mushin' about Nigerian Human right activist Bisi Almini
2015/16 – Vice; DoP. Ongoing documentary projects for Vice including a documentary on the Jewish Agency one on Euthanasia and a film about the migrant crisis on the Greek/Macedonian border
2015 – National Geographic, DoP / Director. Filmed & directed sequences for landmark National Geographic series 'China from Above'. In total James shot 8 stories for the series during 2 shoots. View a short visual documentary 'The Fujianese Seaweed farmers of Southern China' here
2014 – Tibet Feature Documentary (untitled) – DoP. Spent an unforgettable week living with a Tibetan farming family that practiced polyandry. James was shooting a documentary teaser with award winning Australian Director, Celeste Geer. She is used the material to try and secure further funding.
2011/14 – Australian Broadcasting Corporation (ABC), Lighting Cameraman & Editor. Full-time cameraman and editor at the ABC's Beijing news bureau. 3 years shooting and editing news features and breaking news. Click on A, B, C, or D for some samples of James's work.
2014 – Feature Doc – Fluvial Films – Punt Wars; Producer/director/editor/camera. Filmed and directed a feature-length observational documentary about the Cambridge Punt Wars. For a trailer click here.
2010 – CCTV News (English), producer/director/editor/camera. Spent six months as a 'Foreign Expert' at CCTV's English language news channel producing documentaries for their reporter fronted documentary series Rediscovering China. James was the first foreigner ever allowed 'behind the camera' in the features department. See below for some more details of the films he made while he was there.
2010 – CCTV News – The Grape Wall of China, 27 minutes, producer/director/editor/camera. Documentary about the Chinese Wine industry made for reporter fronted documentary series Rediscovering China. Click here for full film.
2010 – CCTV News – Yushu, Rising from the Rubble, 27 minutes, cameraman / assistant producer. Documentary about the aftermath of the Yushu Earthquake in Tibet. Made for reporter fronted documentary series Rediscovering China. Click here for full film.
2009 – Current TV – Black Fortress of Opium, producer/director/editor/camera. Documentary about the Opium Poppy farmers of Turkey who cultivate the plant legally for its medicinal use. This was a second commission for Al Gore's network Current TV. Click here for full film.
2009 – Current TV – Why aren't I a Millionaire? producer/director/editor/camera. Produced a short comic documentary about turning 30, commissioned by Current TV (and subsequently chosen as the best film) for their quarter life crisis season. Click here for full film.
2007 – Feature Doc -The Man Behind the Hit Man, camera operator. Flew to Las Vegas in December 07' to shoot a documentary about Ricky Hatton's coach Billy Graham during the build up to the Floyd Mayweather fight.
mobile: +447801287924______________________________ e-mail: james@jamesbaylisssmith.com
SHOWREEL: https://vimeo.com/jamesbs/naturalhistoryreel ____________PASSWORD: arcticfox
Rachel Kalantzopoulou —————————————————————————Cinematographer
From Athens, Greece to Warwick, UK, and from Siena, Italy to Ebeltoft, DenmarkRachel was trained as a filmmaker. She has worked as editor for various film trailers, short films, and music videos, mainly based in London. Upon her return to Greece, she worked for Fox Networks Group, editing the series' trailers and for the last few years, she has been focusing on music videos and filming live concerts. She is the director and editor of the documentary "Super Salt Peanuts", about the life and legacy of Dante Agostini, is currently in production.
Felix Opahle —————————————————————————————AV & DIT Professional
After completing his BA in Applied Media-Economy at the die medienakademie AG in Munich, with a subject of TV Producing and TV Journalism, Felix moved on into the field of media technology and made his Bachelor`s thesis about stereoscopic 3D and its development. He worked several years at his university of applied sciences as technical supervisor and instructor. Besides that Felix did workflow consulting, DVD/BD/3D-BD/DCP authoring, and other supporting jobs for 2D and S3D productions. Last year Felix worked for the outside broadcast company HD SIGNS GmbH mainly on projects like German Bundesliga, UEFA Europa League, Champions League, and other sporting and show events. Finally, he was the Data Wrangler and DIT for the HFR3D documentary Legacy of Gods, which included shooting in Chile and Guatemala.
Georgia Tsangaraki ———————————————–Director, Actor, Theater Educator, Dramaturg
Georgia is a Director, Actor, Theater Educator and Dramaturg. She completed her B.A studies with Honors degree from the Greek National Theater Drama School and continued with a one year post-graduate course in Great Britain and Arts Educational London Schools. She is trained in voice, dance, Kung-Fu, Buttoh, Suzuki method, acting for the camera, video art, creative writing and is currently in her third year of a DramaTherapy Masters degree. Since 1996 she has been working as an actor with the National and Independent theater of Greece in multiple shows (Greek Tragedies and Contemporary pieces alike). She has participated in short and feature films, as well as television shows. She teaches voice, acting, and movement in Greece and abroad using a unique method that has created based on Greek chorus and the importance of working in an ensemble. The method applies to different educational acting and self-development programs. She has collaborated as an educator and director with SITI company (N.Y), Carnegie Melon University (Pittsburg), MB2 Centro Para La Experimentation de las Artes (Arica-Chile), Unlacc (Santiago-Chile), Baumastrasse (Athens), OYL'S Apprentice Company (Papingo Greece) and many more. She directs plays, most of the times adapting the originals, especially ancient Greek Tragedies: "Mary and John" (Athens 2018), "Las Bacantes Flamencas" (NY2019), "Alkestis" (Arica 2019), just to mention a few. Her last direction "Lemon" is her adaption on "Novecento" by Alessandro Baricco. The play is receiving excellent reviews by the Greek audience and press and runs with great success for the second year in Art Spaces in Athens and around Greece. Has also gained the award of Best direction and Best play in the Comic 7B International festival de Teatru in Buzau Romania 2019. Her main concern is finding ways to teach people the art of performing in different circumstances and conventions. (classical versus contemporary theatre, stage versus camera acting, acting conventional acting versus performance material, etc) without ever losing their truth and personal evolvement to the project. She believes the art of Theatre is therapeutic, inspiring and life-changing and her workshops around the world have a great impact on people's lives.